I was inspired today! So, despite Mr Mojo banning me from starting new projects until I finish all my old ones -- hey, most of them were just barely started anyway! -- I picked this up, and it only took me about an hour to do. (Mostly because I'm too stubborn to just go get a different apparatus with a longer stem.) Easy as pie!!
We happened to have a spare copy of
Green Eggs and Ham
laying around. I don't know
why
we've kept two copies all this time, but we did. And now one of them has been put to another use!
What you need:
- A kids book, not too thick, definitely hardcover
- An old clock, or clock parts – can be bought fairly inexpensively at a craft store
- A drill
- An Xacto knife
- About an hour
I had a clock that had been given to me, but that I had never used. I took it apart for the purpose of painting, but found that I was rather more interested in just taking the clock mechanism and putting it somewhere else. So I took that apart – fairly easy to do with several clocks, though some don't come apart quite this easily. I believe this one came from Target. I also had my spare copy of
Green Eggs and Ham
available.
Using an old stir stick, I lined it up from corner to corner to help find the
approximate
middle. You don't have to use the middle, I suppose you could go off-center, if you wanted to.
I marked the spot where I wanted the clock to be with a marker, and drilled through the book. (I've seen crafts like this where they removed a few pages first to wallpaper around the book. If you wanted to do this, I would really recommend doing so
before
you drill a hole through the book.) It took me a few drill bits to get the right size for the whole post to stick through the book. It will all vary depending on your clock mechanism. Trial and error is okay!
Because the book is thicker than the post on my clock, I stuck the post through the back and traced around the mechanism so that I could cut a hole out the back of the book for the mechanism to sit in, to push the post further up.
Then I cut out the hole using a box cutter. (Yeah, that's my left hand… it was a very awkward picture to take, because I am
really
not left handed, but taking a picture with my left was even harder.)
You may want to clean up the edges a bit, depending on how messy it got. Lemme tell you, mine got
really
messy. BUT, the mechanism fit!
Because I still needed a bit more space to get the post to fit through, I used my Xacto knife to cut some of the pages around the shape in the back. I probably cut through most of the book, because I apparently have a very stumpy post. However, if I didn't do this, the hour hand would not have fit.
Then I used hot glue to keep the mechanism in place, as well as around the pages of the book to keep them from pulling apart.
I added the hands to the clock and drew the main four numbers, and dots for the rest of them. (I know it's not a perfect circle… but it's for my kids' room, so I don't know that they're necessarily going to care… I hope.)
Voila! Book clock! Add a battery, and you're done! (You may have to add something to the back for it to hang on the wall, or perhaps a way for it to stand on a bookshelf, but that's really up to you.)
And last, but not least… a video to prove that it works!
I linked up to these parties: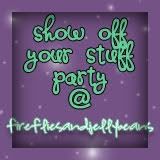 Designer Garden VIP Party